COVID-19 Updates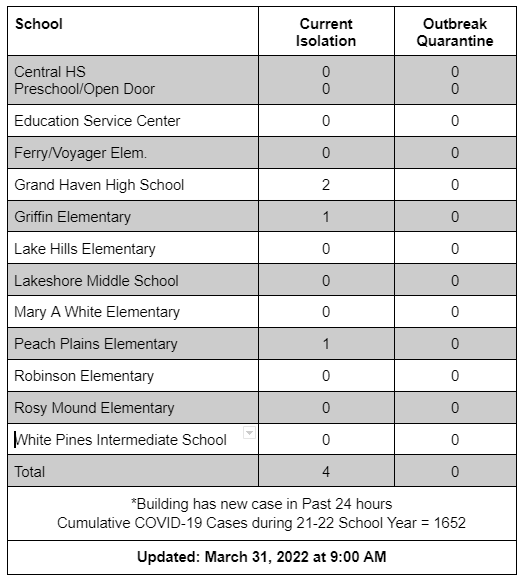 This data represents the number of students/staff that are not at school/work, at the noted time of compilation, due to being in isolation (COVID-19 positive) or have been identified as close contacts (not only school) with COVID-19 anywhere and are required by Ottawa County Department of Public Health to isolate. Those identified as close contact have been notified and self-quarantine is recommended. This report is updated only Monday - Friday. This data is supplemental to the required data "Dashboard" that is managed by the Ottawa County Department of Public Health and meets the requirement of enacted Michigan law.
August 18, 2021 Update:
Dear GHAPS Families,
Throughout the COVID-19 pandemic, the leadership team at GHAPS has relied heavily on guidance from public health experts to determine appropriate safeguards for our students and staff. Based on new recommendations from the Ottawa County Department of Public Health (OCDPH), the Michigan Department of Health and Human Services (MDHHS) and the Centers for Disease Control and Prevention (CDC), the GHAPS Board of Education has voted to temporarily require masks indoors for all K-12 students, staff and visitors during school hours and at the GHAPS Preschool/Open Door program.
The mask requirement does not apply to extra-curricular activities, including athletics. Children two years old and younger, as well as individuals with an approved written medical exemption, are exempt. In addition, masks may be removed when individuals are more than 6' from each other.
Once the COVID-19 risk level in Ottawa County drops into the "moderate" range for seven consecutive days, we anticipate that K-12 masking will not be required. As of August 13, OCDPH classified the county's COVID-19 risk level as "high" based on the percentage of positive tests. As always, we will remain in close contact with OCDPH as conditions change.
The Board acknowledges that masks are not ideal in a learning environment, where interaction and engagement are such an important part of the educational process. But they believe this temporary K-12 mask requirement will give GHAPS the best possible chance of continuing in-person education. District-wide consistency is also important, given the many families with students in various buildings.
I understand that this decision is welcomed by some and opposed by others. Wherever you stand, I ask for your continued patience and understanding. We at GHAPS remain committed to Success for All and we are grateful for your important role in this mission.
Sincerely,
Andrew Ingall, Superintendent
Grand Haven Area Public Schools
COVID-19 Prevention Strategy
Current local public health orders require that "Schools must provide public notice to the school community in a highly visible location on the school's website that outlines the school's COVID-19 prevention strategies for the 2021-2022 school year by completing the COVID-19 Prevention Strategy for Schools Form. Public notice must be published no later than August 27, 2021. The school must notify the school community and the OCDPH of any subsequent changes in the school's COVID-19 prevention strategies by indicating revision date and revision history in the COVID-19 Prevention Strategy for Schools Form".

GHAPS COVID-19 Prevention Strategies Implemented Form
2021-2022 District Level Communications
COVID-19 School Year Resources