Library Media Centers (5-12)
Mission
The mission of the school library is to build a community of independent life-long readers and learners by fostering the spirit of curiosity and choice, by teaching the skills to think critically and creatively, and by providing access to a well-managed, high-quality, diverse collection of resources that meet academic and personal needs.
Collection Development

Purchases for school library materials are based upon:
Support for curriculum
Student/staff requests - professional reviews are checked for appropriateness of the materials for the grade level
Weeding items that are deemed outdated or not used by patrons to make space for new items
Reviews from professional organizations are used to sort for age/grade level recommendations and summaries/topics that the material covers
Parent Engagement

Parents interested in volunteering can contact the building Library Media Specialist for more information.
Parents interested in being more involved in their child's library reading choices can:

Arrange a meeting with the school media specialist to learn more and discuss individual questions about the school library
Sign up for an automatic weekly Destiny email showing what their individual child currently has checked out.
Access the child's Destiny account to see what book(s) the student has checked out.
If desired, work with a Media Specialist to set "limits" on a child's account for checking out books. Examples include:

Note on Destiny that prevents student from checking out specific titles and/or clearly discernible types of books (ie. graphic novels, fantasy….)
Checkout allowed only with parental permission
Use of library not permitted (student bring free reading material from home or other source provided by parent)
Book Reconsideration Policy
Parents who are concerned about the appropriateness of a title can contact the building principal, school librarian, or Instructional Services to receive the proper paperwork.
Board Policy regarding materials complaint
Library Media Center Resources
SAT / PSAT
SAT / PSAT

Michigan and the SAT
The SAT is accepted at all Michigan universities and is already a familiar test to many in the state. The test keeps pace with what colleges are looking for today, focusing on the few durable things that evidence shows matter most for college and career readiness and success. And it reflects what Michigan students are already learning in their classrooms.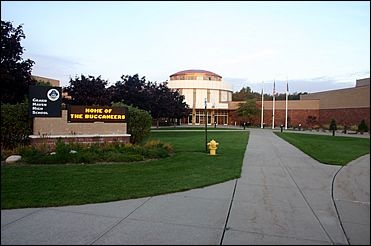 Library Media Specialist
Dana Rider
Grand Haven High School
616.850.6102
Library Media Specialist
Sarah McElrath
Lakeshore Middle School & White Pines Intermediate
616.850.6505