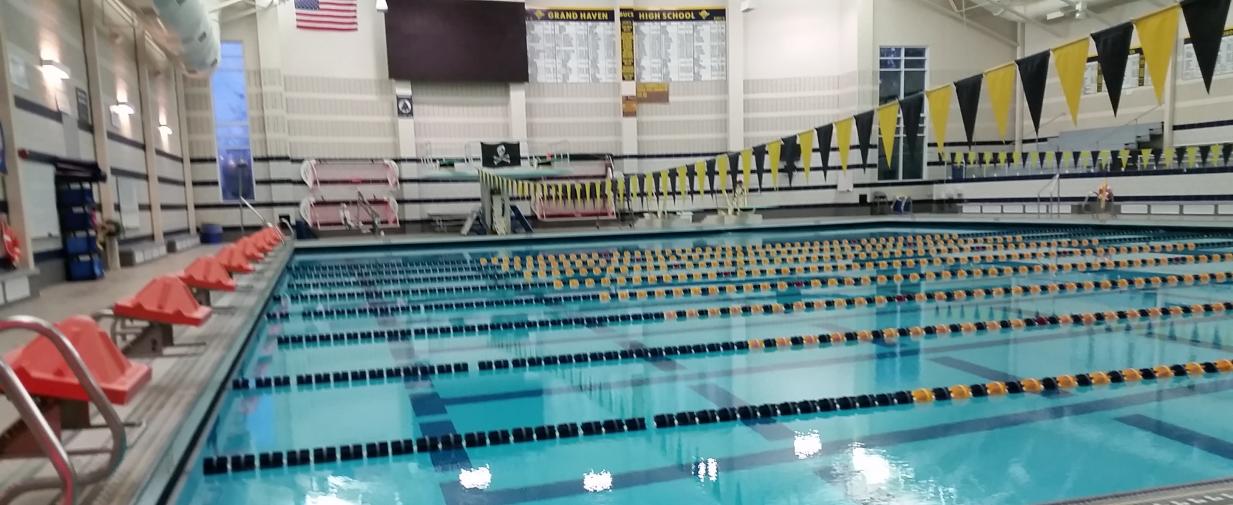 Grand Haven Aquatics Center
---
The Grand Haven Community Aquatic Center is located at Grand Haven High School and opened in January 2000. The mission is to connect individuals, families and the community by offering a wide variety of activities including high school athletics, recreation programs, senior citizen activities, swim lessons, adult water exercise, year-round open pool time and lap swim, and much more.
Competition Pool
The competition pool is 36-yards long by 25-yards-wide with 12 lap lanes. The pool depth range is from eight-feet-deep to 14-feet deep, and is kept at a comfortable 80 degree temperature.
Auxillary Pool
The auxiliary pool complements the facility for children, senior citizens and the handicapped. The water is kept at a warm, 92-degree temperature, and has a shallow recreation space. The pool measurements are 32-feet-long by 26-feet-wide with a depth of two-feet eight-inches to four-feet six-inches. The auxiliary pool has broad, shallow steps with appropriate grab rails and is handicap accessible with a lift for entry into the pool.
Family/Therapy Pool

Open Therapy Pool

Calendar:

Aquatics Family/Therapy Pool

Aqua Dynamics

Time:

9:00 AM to 10:00 AM

Calendar:

Aquatics Family/Therapy Pool

Adult Lap Swim/Open Swim

Time:

11:00 AM to 2:00 PM

Calendar:

Aquatics Family/Therapy Pool

Open Therapy Pool

Calendar:

Aquatics Family/Therapy Pool

Aqua Dynamics

Time:

9:00 AM to 10:00 AM

Calendar:

Aquatics Family/Therapy Pool

Adult Lap Swim/Open Swim

Time:

11:00 AM to 2:00 PM

Calendar:

Aquatics Family/Therapy Pool

Open Therapy Pool

Calendar:

Aquatics Family/Therapy Pool

Aqua Dynamics

Time:

9:00 AM to 10:00 AM

Calendar:

Aquatics Family/Therapy Pool

Adult Lap Swim/Open Swim

Time:

11:00 AM to 2:00 PM

Calendar:

Aquatics Family/Therapy Pool

Open Therapy Pool

Time:

8:00 AM to 11:00 AM

Calendar:

Aquatics Family/Therapy Pool

Open Therapy Pool

Calendar:

Aquatics Family/Therapy Pool

Aqua Dynamics

Time:

9:00 AM to 10:00 AM

Calendar:

Aquatics Family/Therapy Pool

Adult Lap Swim/Open Swim

Time:

11:00 AM to 2:00 PM

Calendar:

Aquatics Family/Therapy Pool
Aquatic Center Pool

Age - Group Swim Team

Time:

8:00 AM to 11:00 AM

Adult Lap Swim/Open Swim

Time:

11:00 AM to 2:00 PM

Age - Group Swim Team

Time:

8:00 AM to 11:00 AM

Adult Lap Swim/Open Swim

Time:

11:00 AM to 2:00 PM

Age - Group Swim Team

Time:

8:00 AM to 11:00 AM

Adult Lap Swim/Open Swim

Time:

11:00 AM to 2:00 PM

Open Lap Swim

Time:

8:00 AM to 11:00 AM

Age - Group Swim Team

Time:

8:00 AM to 11:00 AM

Adult Lap Swim/Open Swim

Time:

11:00 AM to 2:00 PM
Contact Us
Doug Thorne
Aquatic Supervisor