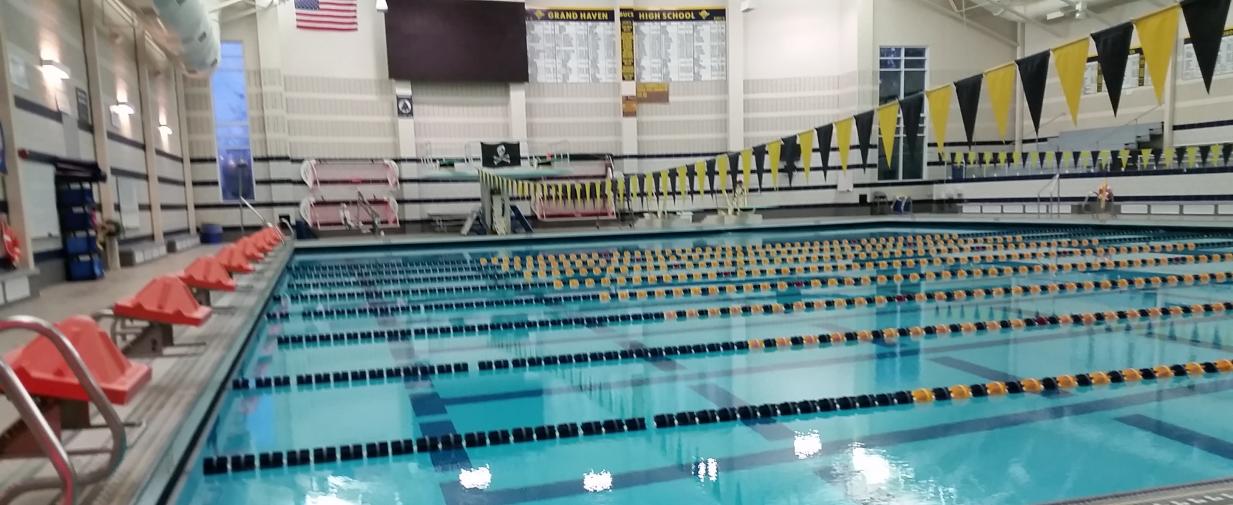 Grand Haven Aquatics Center
Limited Pool Operations: Beginning 2-1-21
Beginning Monday, February 1, 2021, we will be open for limited adult lap swim and water exercise. Pre-registration is required by signing up through the

Signup Genius link.
Please review the COVID-19 policies before entering the building.
General Information regarding COVID-19
General Information regarding COVID 19
Masks are required at all times, except while swimming.
Hand Sanitizing stations are located through out the aquatics center: lobby area, lifeguard stand, etc.
We are practicing social distancing. Please keep 6' distance between staff and other patrons.
The men's and women's locker rooms are open for your use, however, we STRONGLY encourage you to arrive and leave in your swim attire. This suggestion is to limit the time spent in the locker rooms. At this time the Coed locker room will remain closed. Deck changing will not be allowed!
A complete shower is required before entering the pool.
Swimmers are encouraged to bring their own equipment, but, we will have kick boards, pull buoys, exercise barbells and noodles available. If you are using our equipment PLEASE make sure the equipment is put in the "USED Bin" when finished using them.
Restrooms will be available in the men's and women's locker room.
We encourage you to bring your own FILLED water bottle.
Aquatics staff will be cleaning and disinfecting between the morning and noon hour swim times.
Although we are implementing extra cleaning throughout the day, if you are a part of a vulnerable population, please consider your risk while using our facilities.
Online registration is required!
A sign-up genius link will be available Fridays at 10:00am for swim registrations for the following week.
Main Pool will have 12 lane slots with multiple time slots available.
Therapy pool will have 4 lane slots with multiple time slots available.
One swimmer per lane. Family members of the same household may share a lane.
Swimmers will be limited to one time slot per day.
Swimmers are asked to register yourself and NO one else, unless you are of the same family and swimming a shared lane.
To ensure all swimmers have access to the pool each day, time slots will be limited to 45 minutes.
If you are unable to attend your reserved swim time, please cancel your registrations so someone else can have the opportunity to swim.
Please DO NOT enter the building more than 10 minutes prior to your swim time.
There will be a cash box located at the lifeguard stand to drop your payment off. At this time we are accepting exact cash or check (payable to GH Aquatics). $3.00 students (0-18 yrs) $4.00 (college and adults). For membership information please see Joanne.
If you register for lap swim or enter Grand Haven Aquatics Center (staff and/or patron) by doing so you are verifying that you do not have and you have not had any of the following COVID-19 symptoms in the last 14 days.
Close contact or have cared for someone with COVID 19
Loss of smell or taste
Cough
Sore throat
Shortness of breath/difficulty breathing
Diarrhea, nausea or vomiting
Fever or chills
Temperature greater thant 100.3 degrees
Best practice...if you do not feel well please stay home!
---
The Grand Haven Community Aquatic Center is located at Grand Haven High School and opened in January 2000. The mission is to connect individuals, families and the community by offering a wide variety of activities including high school athletics, recreation programs, senior citizen activities, swim lessons, adult water exercise, year-round open pool time and lap swim, and much more.
Competition Pool
The competition pool is 36-yards long by 25-yards-wide with 12 lap lanes. The pool depth range is from eight-feet-deep to 14-feet deep, and is kept at a comfortable 80 degree temperature.
Auxillary Pool
The auxiliary pool complements the facility for children, senior citizens and the handicapped. The water is kept at a warm, 92-degree temperature, and has a shallow recreation space. The pool measurements are 32-feet-long by 26-feet-wide with a depth of two-feet eight-inches to four-feet six-inches. The auxiliary pool has broad, shallow steps with appropriate grab rails and is handicap accessible with a lift for entry into the pool.
Contact Us
Grand Haven High School
17001 Ferris Street
Grand Haven, MI 49417
Phone: 616.850.6000
Fax: 616.850.6010
Joanne Dilley
Aquatic Supervisor