CHILL Program at White Pines
The Community CHILL (Completing Homework in a Learning Lab) program provides fifth and sixth grade students a supervised location for them to complete assignments, catch up on past due work, work on projects, study for tests, and receive extra help in the neighborhood in which they live.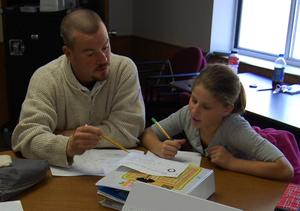 The CHILL staff communicates with teachers so that we are all working on the same goals with students. Kids are rewarded weekly for good behavior, grades and work completion. Students will also participate in several community service projects throughout the school year.
CHILL is offered Monday through Thursday afternoons from 3:55 to 4:55 p.m. right here at White Pines. Parents/guardians will need to pick up their student promptly at 4:55 p.m. No transportation is provided.
If you are interested in having your son or daughter participate in this program, please download the application below, and return it to the main office at White Pines.
Funding for CHILL is provided by Greater Ottawa County United Way and the Salvation Army.