Our School - Ferry Elementary
About Ferry Elementary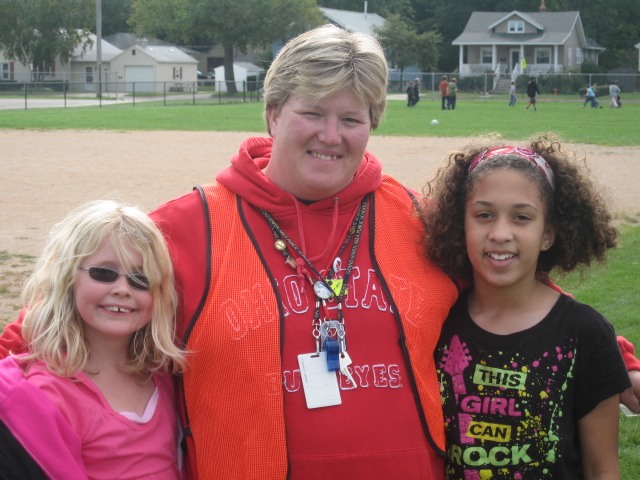 A full range of student support technology and services including audio enhanced classrooms, computers and smart boards, reading and mathematics assistance, speech and language, and special education services are provided at Ferry. In addition, the district Voyager School, a multi-age Reggio Inspired School, is housed at Ferry. Classroom learning through creative use of textbooks, technology-assisted learning, and hands-on experiences meets the individual needs of all children. The Ferry School and Voyager School staff provide exceptional curriculum opportunities in reading, writing, science, mathematics, social studies, physical education, and the performing and visual arts. Ferry School is the recipient of the 2002 Golden Apple Award from the State of Michigan. This award was presented to Ferry for its high MEAP assessment scores, its outstanding programs and parent involvement.
After-school enrichment in arts, athletics, and academic competitions provide additional learning experiences for our students. Grand Haven Area Public Schools and Ferry Elementary are outstanding educational systems in the excellence of programs and facilities, and in the quality of teaching and administrative personnel.
Our History
Ferry School is located in the heart of Grand Haven. It is known for the size of its heart, the skill of its educators, and the dedication of its parents. Ferry, named after early explorer, William Ferry, has a proud heritage dating back to 1913 when it was first built. Since that time there have been many changes, several additions and several refurbishments. In 2002 Ferry School was recognized with the Golden Apple Award by the State of Michigan as one of the most improved schools in the state. Today Ferry is wired with the latest technology and in 2006 was remodeled inside and out. Ferry School is home to a K-4 single-graded program, a district K-5 Reggio Inspired multi-age school within Ferry School called the Voyager School, the district Great Start Readiness Program for 4 year old children, a district autistic and extended resource special education program, A Head Start classroom, and a full complement of support services. Ferry School has received a grade of "A" from the state of Michigan for its exemplary support of all students and their families and high scores on the Michigan Educational Assessment Program.
Our Staff
The Ferry staff is engaged in professional development throughout the school year. In the past we have partnered with Grand Valley State University to develop our students as authors and enhance writing across the curriculum in our school. We are well trained in the techniques of Love and Logic. It is one component to address the issue of bullying, to help children become responsible citizens and to provide the staff with a common process to work with children and conflicts.
MIBLSi
Ferry is also a MIBLSi (Michigan's Integrated Behavior and Literacy System initiative) school. The MIBLSi program provides training to the Ferry staff to bring research based behavior programs and expectations and an early intervention literacy program to give our students an effective research-based early literacy beginning.
A Community School
We provide our students with community involvement through many programs and activities such as visiting seniors in our neighborhood, delivering food to the needy with Love, Inc., a local community assistance organization, various fund raisers for community organizations, and other events that help our students understand the importance of community participation. In addition, community volunteers participate with us in countless ways. Our Student Council and PTA sponsor several activities throughout the year.
Ferry School is proud to be a community school known for high achievement, a vibrant mix of many programs and families, and a host of community outreach activities that reflect our commitment to a powerful vision.
Vision
"Celebrating the Power of Learning,
the Power of Differences,
the Power of Community."