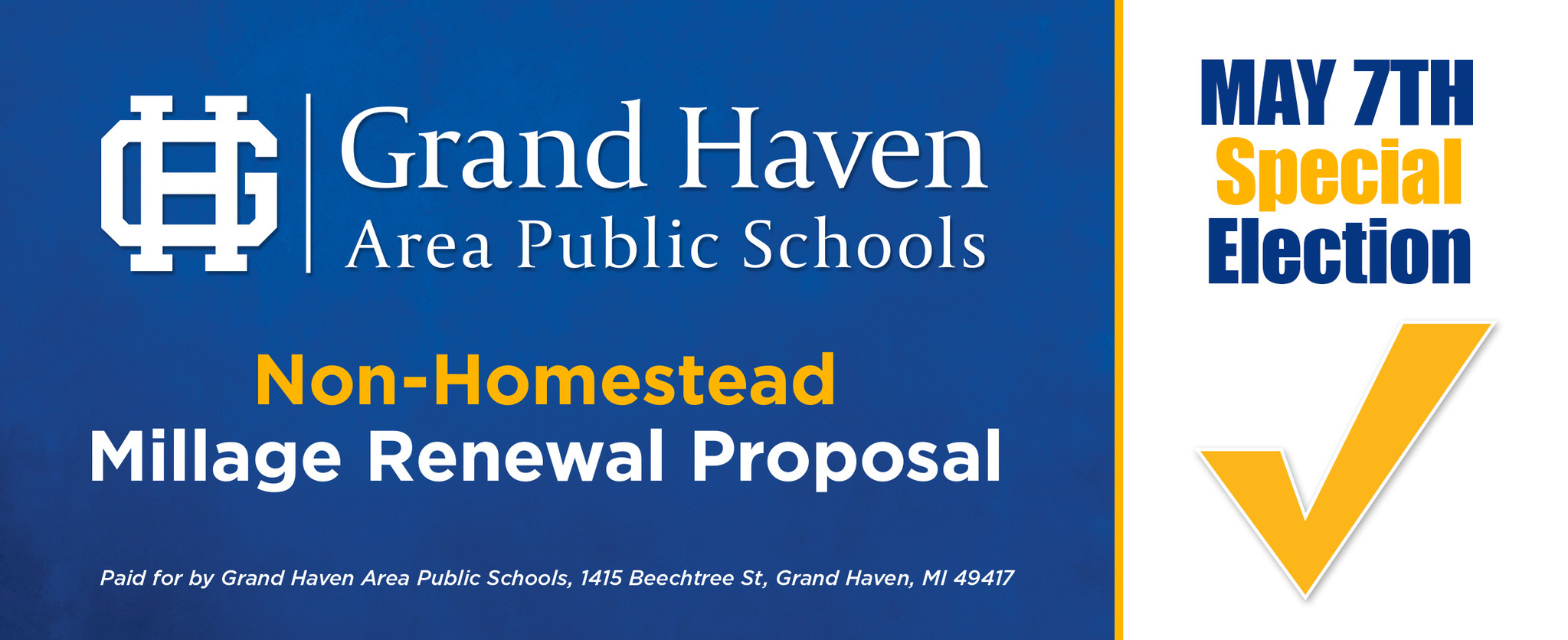 What is it?
This is a renewal of 18 mills on non-principal residence and other non-exempt property and 6 mills on commercial personal property. This proposal represents an annual renewal (not an increase) of millage, which does not affect the taxes on a homeowner's principal residence. Passage of the non-principal residence renewal means a continuation of over 15 million dollars in revenue needed to maintain GHAPS programs and services.
What Will the Millage Renewal Cost Homeowners?
Nothing! The 18 mill non-homestead millage renewal only applies to local business, industrial and commercial property that is not the owner's primary residence. There is NO IMPACT on homeowners.
Will This Increase Taxes on Non-Homestead Properties?
No! This is a renewal, not an increase, so businesses will keep paying the same millage rate they are currently paying.
What Does Non-Homestead Mean?
Non-homestead properties represent industrial, commercial, and some agricultural property and "second homes". It does not include a family's primary residence.
What is the Money Used For?
This 18 mill non-homestead levy generates over 15 million dollars in revenue for GHAPS. This represents over 20% of our total revenue budget, and we use these dollars to cover district program expenses.
Why is the Passage of this Renewal so Important?
This millage is critical for our district budget, not only this year but every year. Without passage of this millage renewal, it would be difficult to open our doors for students in the fall.
Our voters in the past have overwhelmingly supported this renewal, as they realize how important this levy is for district revenues. They also realize this is a millage renewal, not an increase and does not affect homestead property. This millage renewal only applies to non-principal resident properties.
Voting Information & Ballot Language

Ottawa County Voting Information
Sample Ballot Language
This proposal will allow the school district to continue to levy the statutory rate of not to exceed 18 mills on all property, except principal residence and other property exempted by law, required for the school district to receive its revenue per pupil foundation allowance.
Shall the limitation on the amount of taxes which may be assessed against all property, except principal residence and other property exempted by law, in Grand Haven Area Public Schools, Ottawa and Muskegon Counties, Michigan, be increased by 18 mills ($18.00 on each $1,000 of taxable valuation) for the year 2021, to provide funds for operating purposes; the estimate of the revenue the school district will collect if the millage is approved and 18 mills are levied in 2021 is approximately $15,654,853 (this is a renewal of millage that expired with the 2020 tax levy)?