March 7, 2023
Grand Haven's Littlest Bucs Develop Creative Solutions to Real-World Business Problems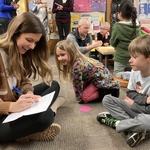 Even Grand Haven's littlest Buccaneers have big ideas and creative solutions! Three Grand Haven Area Public Schools (GHAPS) elementary classrooms make up the district's present cohort of the popular Homegrown program, where classrooms and area business partners collaborate to answer real-world driving questions.
At Griffin School, Rebecca Williams' first-grade class is partnering with Meredith Long and Tri-Cities YMCA to answer the driving question: What can we do to make life jackets more comfortable?
Also at Griffin, Brenna Andaloro's kindergarten students are working with Caleb Berko and Mackite to determine: How can we make good choices about the types of toys we play with together?
At Robinson School, Amy Schriber's kindergarteners are charged with helping Stephanie Erens and Lake Trust Credit Union work out: How can we develop a system to better support upset customers?
A proven educational best practice, project-based learning is at the heart of Homegrown programming and an integral part of the GHAPS classroom experience. This structured approach allows students to tackle real-life problems using significant and relevant content.
Having identified their driving questions, classrooms are continuing the creative process by observing and investigating with their driving questions in mind. Then, they'll work through what they've learned during an incubation period, develop potential solutions, and pitch their ideas to a feedback panel for validation. Each project culminates in a showcase event where students will present their solutions to their business partners.
"The Homegrown program has introduced students to many new places, people and ideas," shares GHAPS Superintendent Scott Grimes. "Learning experiences like these create important connections within the community and make learning tangible and relevant for students."
Grand Haven Area Public Schools is a district of distinction for students in preschool through 12th grade. With a goal of providing exceptional educational experiences, GHAPS is committed to success for all students and strives to provide exemplary programs and opportunities to meet their diverse needs.