LMS - Our School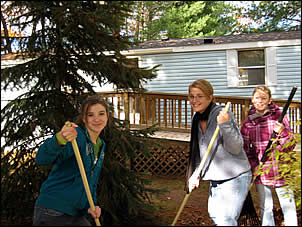 The Lakeshore Middle School building was the site of the original high school built in the late 1950s. At that time, the building housed just over 1,000 tenth, eleventh and twelfth graders until the district built a new high school, restructured grades in all buildings, and divided the middle school student population between two buildings in 1997.
In 2012 our district reconfigured our two middle schools to create a 5/6 building, and a 7/8 building. Currently, all seventh and eighth grade students from across Grand Haven Area Public Schools attend Lakeshore Middle School.
With passage of the 2009 energy bond election, Lakeshore Middle School was completely remodeled during the summer of 2010 with new energy-efficient windows and doors, and new heating, cooling and lighting systems. Thanks to our community for their generous support!
About Lakeshore Middle School
Dedicated Staff
Our dedicated and professional staff delivers a comprehensive and rigorous education. Middle school students can earn high school credit in Algebra, Geometry, 8th Grade Advanced PE and World Languages, and we are home to a nationally-recognized Science Olympiad program.
Fine Arts & Extra-Curriculars
Students have the opportunity to explore their talents through an award-winning arts program through band, orchestra, choir, drama, and visual arts. Over 90 percent of our students participate in extra-curricular offerings including yearbook, drama, art club and photography outside of the school day. In addition, Lakeshore Middle School offers a comprehensive physical education and MHSAA interscholastic programs to meet every interest.
Community
Our devoted parents and community members support our school community in a variety of ways including volunteering in the classroom and on field trips, as well as through involvement in our School Improvement process.
We invite you to stop by for a visit. Our door is always open!