GHHS Campus Life
Welcome to Grand Haven High School, a comprehensive high school of 1,800 students nestled in the dunes of Lake Michigan. Opened in the fall of 1997, our school is a state-of-the-art, two-story facility with eight academic areas, and a beautiful performing arts center. There are 97 classrooms including eleven computer labs, a large field house for athletics, an auxiliary gym, natatorium, and newly built outdoor stadium for football, soccer, lacrosse, track and field, and marching band. A recently passed technology bond has allowed us to maintain a learning environment with outstanding technology resources.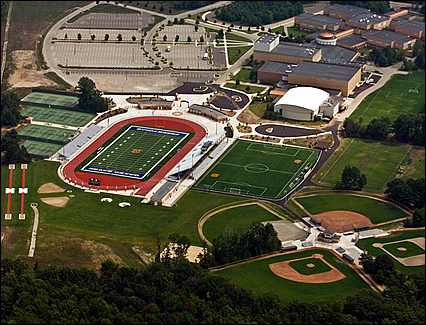 We are very proud of our recent accomplishment as one of America's Best High Schools according to US News and World Report. The silver medal we earned is a testament to the wonderful students, teachers, parents, and community who truly value education.
Our exceptional teachers consistently strive for excellence both in and out of the classroom. We are extremely proud of the leadership they provide in our state and nationally recognized programs.
Our Science Olympiad program, one of the best in the nation, recently completed another outstanding season. They finished first in the state, and runner-up in the nation for the second consecutive year. This amazing team has won a total of 13 state and three national championships. Other state recognized programs include band, orchestra, choir, and various athletic teams. We are extremely proud of our school and work diligently to uphold our tradition of excellence in everything we do!